Home
»
Sexual Awakening: A Clinical Guide for Healthcare Professionals
Sexual Awakening: A Clinical Guide for Healthcare Professionals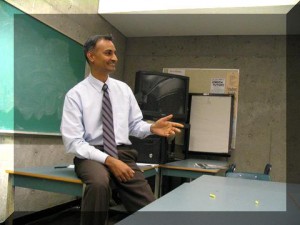 As one of the most powerful elements in our lives, sex touches almost every aspect of our thoughts, feelings, and actions. This workshop creates a safe, trusting environment where the mysteries of sexual relationships can be explored and appreciated from a therapeutic point of view.
This workshop offers counsellors, and other healthcare professionals, the sexual knowledge, skills and intervention strategies to help clients enhance intimacy in their romantic relationship. The general areas of discussion include: the uniqueness of sexual expression, communicating sexually, appreciating your clients' erotic self, relationship/intimacy issues, recognizing and resolving common sexual concerns and dysfunctions, and facilitating a better sex life.
This workshop contains informal, interactive segments leading to personal growth and professional development.
As a special bonus, Dr. Faizal will be sharing excerpts from his book and his "Ten-Week Program to Increase Sexual Intimacy in Couples."
Participants are also granted a completion certificate valued at 3 hours CE credit.
Light refreshments will be served.
Date of next workshop
Coming soon!
Location
Suite 2506 – 1323 Homer Street (Yaletown), Vancouver, BC
What participants are saying
Faizal Sahukhan gave an insightful presentation on 'Romance & Sex: Challenges & Treatments'. Dr. Sahukhan's knowledge of the subject matter, along with his straightforward and gentle approach in presenting his research with client anecdotes enlightened many of the seasoned counsellors and graduate students attending. We look forward to his book!"
— Claire Sutton, MA, RCC, CEAP, President, Employee Assistance Professionals Association
"I have referred several patients to Dr. Sahukhan and both they, and I, were very pleased with the care that they received. With a very kind and supportive nature, Dr. Sahukhan gently guided my patients toward their goals….Dr. Sahukhan helps patients take control of their sexual health, consequently releasing some of the guilt and shame that often accompanies sexual dysfunction….I am very pleased to have such a dedicated, professional, and excellent counsellor in Dr. Sahukhan to whom I can refer my patients."
  – Dr. Jennifer Lorne, MD, CCFP, Family Doctor
Faizal Sahukhan, Ph.D. is a Registered Counsellor and Certified Clinical Sexologist who specializes in offering healthcare professionals education and clinical supervision in the area of human sexuality
For more information please call Dr. Faizal at either 604.899.0102 or 604.639.4443, 
Or write to him via his private email: drfaizal@multiculturalromance.com.
There is limited seating for this event. To confirm your attendance, kindly do so by making payment here.

After your confirmation is received, you will be emailed a ticket to this workshop.